Project Synopsis
The objective of creating a cloud-based field service solution is to help field workers fill out work contracts and receive payment on their mobile devices.
Users can use the app to create calendars that include different jobs and routes and metrics such as scheduled lunch breaks and doctor appointments.
Collaborating with ValueCoders, the client expected a user-friendly app through which users can generate reports to monitor progress across their entire company. The client also wanted to access a customer database to build customer profiles that included location, service history, and billing information.
With Pocomos' routing tool, users can see a visual map of all their field workers and their routes between jobs. For each route, the map shows how long the route will take to complete and the jobs will generate how much revenue on the route. Pocomos is priced per-user per-month basis and includes support via phone and email.
Project Requirements
The project requirement was to create a revolutionary pest control solution to provide complete business automation and protection for all unwanted pests. The following points will explain the project requirements‌.
1. Complete Business Automation
The most beneficial of web-based pest control is complete business automation. While other systems may offer basic business automation for invoicing and appointments, this pest control software is designed with features
for pest control, such as pesticide use and pest activity tracking.
2. Appointment Scheduling
Eliminate customers waiting to schedule an appointment. Web-based software allows customers to schedule appointments and automatically plan a technician's route, crosscheck employee schedules and availability.
3. Eliminate IT Problems
Web-based software does not require any internal resources to manage, no hardware maintenance, no manual backups, server space issues, or upgrades to deal with. There is only a need to log in and use the service.
4. Tracking Capabilities
The pest control software will track anything and everything used in the pest control industry. It keeps track of your equipment and technicians while tracking your biggest revenue sources, use of chemicals, and targeted pests in the area.
5. Mobile Accessibility
It makes it easy for the business owner to access the data from anywhere, from the tablet or smartphone in the office or on the go.
6. Rules and Regulations
Web-based pest control software is the best way to monitor pesticide usage or chemical levels while following these legal requirements and having real-time information.
7. No Downloads
Web-based pest control software eliminates the need to download space-hogging software on every computer in the office, nor do your computers have to be networked to the main server. Open your browser on any desktop, laptop, tablet, or smartphone and get to work instantly.
8. Billing & Invoicing
The pest control software can automate customer payments, bills, and invoices to cut costs, minimize human error, and make sure you are paid promptly without having to call customers about their monthly bills.
9. Security
The firmware, firewalls, and internet security built around your cloud-based software are likely more stable and secure than the anti-virus software on your desktop computer. It keeps customer information and business financials safe online. It also makes the best way to protect your most vital information from destruction in a flood, fire, or other disasters.
10. Space
As your business grows, so does the information. Web-based software keeps up with your demand for more space. So, purchasing servers or a backup hard drive is not needed. Enjoy the convenience of customer information, store information, and account histories in one place.
After meticulously examining every detail of this task, our team of experts has developed an innovative pest control solution to provide total business automation and protection against all pests. Our team possesses the skill necessary to complete any undertaking without difficulty.
Solution Implementation
Project Flow
The key implementation elements primarily include planning. Planning of work, tasks, subtasks, time, people, and resources.
To these planning elements, there is also a step in understanding the "why" and whether the project has worked.
Process
The work plan identifies the changes needed for existing processes, procedures, resources, equipment, and documents, along with the ways to make the changes. In addition, the plan identifies who will make the changes and when they will be completed. Determining how the changes will be measured and deemed successful is also crucial.
Documentation
For documentation, we are creating flowcharts & diagrams. Online we are using Figma and lucidchart.
Architecture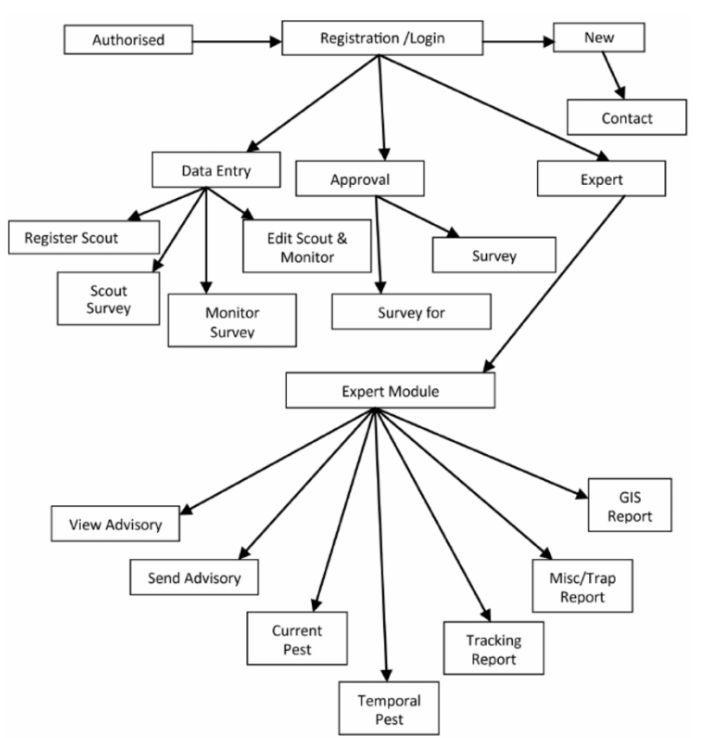 Results
Our experts developed perfect pest control software to meet our client's needs. Valuecoders is the best software development company with improved processes that continuously serve clients better and make it easier for them to connect and get the work done.
This software allowed the client to track sales within the mobile app, with reports on individual, team, and branch sales data and data analysis. Through this software, electronic contracts can be generated and signed electronically at the customer's home, and payments can be processed using the solution on any mobile device to close sales in the workplace.