Running a successful business is not easy. A lot of processes are needed regularly for it's smooth functioning. Bigger the company, more perplexing are the functions. Issues like administration, lack of worker capability, absence of focus on core subject and operational expenses. For each extra process, new challenges develop. Getting additional employees to complete these tasks may not be cost effective.
Outsourcing and offshoring help you in optimizing team strength and getting the work done more efficiently. Both, outsourcing and offshoring are helpful and have their respective pros and cons.
Here are some key differences between outsourcing and offshoring that can help you decide which one to choose and why to choose it for your business:
Definition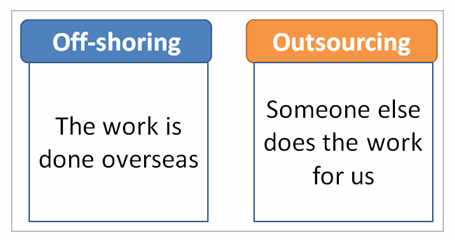 Image Source : Tutor2u
When a company contracts a third party to do some work on it's behalf, it's called outsourcing whereas offshoring is when a company outsources it's work to an organisation based in another country. For example, a U.S based business setting up its call centre in India to serve U.S clients is offshoring but an Indian firm handing over it's IT transaction activities to a specialist supplier in India is outsourcing.
Main Focus of Both Processes
Image Source : uTexas
Blue chip companies are always focused to increase their productivity. They want every second of their employee's work hour to be used efficiently and therefore they usually outsource their daily routine tasks which can be done by a third party.
Offshoring is opted by companies to get more work with reduced overhead costs. Because of the difference in the wages of employees of two countries, companies offshore their work to increase their business profits.
So, the main focus of outsourcing is to concentrate towards company's core competencies whereas offshoring mainly aims at cost cutting.
Communication Aspect
Image Source : ExitPlanning Edu
In Offshoring, work is given to an organisation based in a different country. Their language and culture are usually different from the home country of the company. So, the communication barrier may create a big problem in this business technique.
Outsourcing is usually done in the same country. The hired organisation and the company itself are from the same origin so language and cultural differences are not an issue here.
Employment Aspect
Image Source : FltogetherFed
Both, outsourcing and offshoring have been criticized numerous times. Since outsourcing is usually done in the home country, it provide jobs to it's own country's citizens but offshoring is highly criticised for transferring jobs as it provides employment opportunities to citizens of another country and enhances the unemployed citizen graph of the home country.
Risks In Both Processes
Image Source : Outsourceportfolio
In offshoring, a company hires a foreign organisation for their work which may risk the company's production in various ways such as political turmoil may affect the production or subjective changes in economic policy of a government may compel unnecessary confinements on MNCs.
In outsourcing, risks are rather different than offshoring. The risks of this process rise mainly because of the difference in long term objectives of company and vendor.
Outsourcing and offshoring, both are the leading business techniques for the present business scenario. Both have their pros and cons, but which one is more favorable to a business, actually depends on the priority of the owner and the type of task for which they want the service. Outsourcing a project can be safe for most businesses but it can't be used to achieve higher business profits. Offshoring, on the other hand, can provide a professional helping hand at low prices. Countries like India are the giants of present outsourcing and offshoring business, especially for IT services. The main reason behind that, is the availability of highly trained professional software engineers, low cost per head and negligible communication barrier.