Nowadays, to get a competitive edge, developing a business website is necessary, and to do that, one of the things you require is suitable CMS platforms. The term CMS is nothing new to you; numerous new platforms are emerging every year, and sometimes it becomes hard to find out the top CMS platforms to choose from.
Do You Know?
33.1%

of the websites use none of the

CMS

that we monitor.

WordPress, Shopify, and Wix

are used by

43.0%, 4.3%,

and

2.3%

of all the websites, respectively.
Whether you need to set up a blog, a portal for maintaining a web presence, an attractive eCommerce website, or anything else to enhance your online presence, there are CMS tools for your specific needs. The decision to decide the perfect CMS tools for a website depends on your and business requirement.
Now, let discuss the top 5 CMS platforms available and what are they offering differently in their latest updated versions:
THE BEST WEB DEVELOPMENT CMS PLATFORMS
These top CMS (Content Management System) platforms let you simply build a website without knowing any code.
1)

WORDPRESS
WordPress is an online, open-source website development and management tool based on PHP that ranks first among the top CMS platforms. However, in non-geek speak, it's probably the easiest and most powerful blogging and website content management system with a 60.6% market share altogether.
Source: Google
If you are looking for a website for blogging, product showcasing, or e-commerce purpose with high quality, good support, and security at the same time, then the WordPress CMS platform can be your perfect choice.
Moreover, WordPress is also used for many other purposes, such as corporate websites, business, and non-profit websites, etc. It's highly customizable, with over two million free themes and templates available to download from its official website.
There are around 60 million websites that use WordPress around the world today. This makes it one of the most popular content management systems out there. And it shows no signs of slowing down either.
---

---
WordPress Key Features
Show/Hide Things Using Screen Options

Move, Add, or Delete Dashboard Widgets

Paste URL to Make Links in Visual Editor

Accessibility Mode for Widgets

Preview Themes Without Activating Them

Edit Images

Split Single Post into Multiple Pages
WordPress Pros and Cons
| | |
| --- | --- |
| Pros | Cons |
| Great community | CMS funtions need additional extensions |
| Automatic user interface | Plugins have security gaps |
| Simple installation and setup | Restricted stability and performance capability (high traffic) |
| Manageable integration of plugins and other extensions | Frequent security updates |
2)

MAGENTO
Magento is an e-commerce platform built on open source technology that provides online merchants with a flexible shopping cart system. It is considered to be a leader among the top CMS platforms in the eCommerce industry.
Magento offers powerful marketing, search engine optimization, and catalog-management tools.
Specifically made for e-commerce stores, Magento has a 9% market share among all other eCommerce web development CMS platforms (CloudWays). With its easy setup and use, it is one of the most preferred options for small businesses.
Moreover, it also helps you manage your orders more efficiently as well as provides advanced reporting functionality. The best part about using Magento is that there are no upfront costs associated with using their software. You can get started by signing up for free and then upgrading at any time if you want additional features or space.
Plus, this web development CMS platform offers 24/7 support which means you can rest assured knowing that you will never have to worry about your website going down or not working properly. If you're looking for a highly scalable solution that can grow along with your business needs, then Magento might just be what you're looking for!
Source: Google
Magneto Key Features
Marketing, Promotions, and Conversion Tools

Site Management

Catalog Management

Catalog Browsing

Product Browsing

Checkout, Payment, and Shipping

Order Management




---
---
Magneto Pros and Cons
| | |
| --- | --- |
| Pros | Cons |
| Offers optimal security | Complex and unintuitive customization |
| It is SEO friendly in nature | Very expensive plans |
| Multiple Customization Option | Need for hosting |
3)

DRUPAL
Among the top CMS platforms, Drupal ranks 3rd. Drupal is one of the ready-to-use CMS tools for website development, written in the PHP programming language. The software supports content management, newsletters, collaborative authoring, podcasts, image galleries, file uploads/downloads, peer-to-peer networking, and more.
It also provides an API that allows developers to create their own modules or applications on top of it. It has a huge community behind it, with over 1 million members worldwide. However, there are some drawbacks to using Drupal, such as its limited scalability and complex configuration process.
But if you're looking for a free, open-source solution with a large community that offers many features out of the box, you should consider using Drupal as your next CMS platform.

Source: Google
Drupal Key Features
New Theme Engine

More HTML5 Power to You

Multilingual Ready

Manage Your Configuration

Easy Authoring

Quick Edits

Views Now Part of Core
Drupal Pros and Cons
| | |
| --- | --- |
| Pros | Cons |
| Small software core | Complicated configuration due to poor backend compatibility |
| Wide selection of extension modules and predefined Drupal configurations | Requires lots of extra installations |
| Supports multi-domain management | Module installation possible via FTP |
4) JOOMLA
Joomla is one of the CMS platforms/web development platforms that's designed to be easy to install and set up even if you're not an advanced user. Not many Web hosting services offer a single-click install, getting your new site up and running in just a few minutes.
The platform has been around for more than 10 years, which means it's stable and well tested—and there are plenty of third-party developers who can help with customizations or extensions.
Moreover, its content management system (CMS) is completely free and open source. Joomla is also popular among small businesses looking to create their own website, as well as larger companies looking for a cost-effective solution that doesn't require extensive training.
And while it's one of the most affordable options on our list, it still offers excellent performance when handling high traffic loads. All things considered, we think Joomla will continue to be a top choice among both consumers and businesses in the coming years.
Since Joomla CMS tools for website development are so easy to use for Web app developers or designers, your web developer can quickly build sites. Also, Joomla makes it easier to manage the website further.
Joomla Key Features
Multilingual
User Management
Media Manager
Banner Management
Powerful Extensibility
Web Link Management
Frontend Editing
Content Management


---
---
Joomla Pros and Cons
| | |
| --- | --- |
| Pros | Cons |
| Easier installations & configuration effort | Unequal rights management |
| User-friendly template production | Superior extensions can be pricey |
| Wide pool of extensions and designs | Extensions require manual implementation |
5) UMBRACO

Umbraco is touted as one of the friendly CMS platforms out there, aimed to provide freedom to its users to create and customize content on a website as per their needs. The entire platform is based on Microsoft's ASP. Net framework.
It provides support for both MVC and WebForms, which makes it easy for developers to use any language they want while developing custom applications. It has been developed with the aim of helping web developers create websites that are faster, more secure, and easier to maintain.
It is used by companies like BMW, Volvo, and Sony Music Entertainment, among others. The reason why it is mentioned in our list of top CMS platforms for website development in 2022-23 is that it has gained popularity over time due to its ease of use features along with advanced functionality for creating websites without any hassle.
Unlike other PHP-based CMS platforms, the .Net environment is comparatively more secure. You should hire Umbraco developers if you're looking for a platform insusceptible to malware attacks and does not require frequent updates like WordPress or Drupal.
Source: Google
Umbraco Key Features
Editing or storing data
Maintain and manage the website
Full Design control
Supports Standard Tools
Allows uploading images, videos, and files
Smart Search feature
Supports Cloud
Umbraco Pros and Cons
| | |
| --- | --- |
| Pros | Cons |
| Large community of developers | Somewhat difficult to use |
| Security and stability | No built-in support for SASS, LESS |
| SEO and user friendly | Sometimes there is a publishing error |
| Easy to run multiple sites | Shortage of plugins for extended features |
If you are focusing on web application development, I suggest you connect with the best
web development service provider
. By doing so, you will be able to make efficient use of web development CMS, ultimately resulting in forming a leading web application.
6) HUBSPOT
It is a multi-purpose CMS platform that allows you to create websites and landing pages. The excellent part about it is that you can use it for email marketing, SEO, lead generation, social media management, and much more.
The HubSpot CRM comes with a built-in SEO tool which makes things easier for users. You can easily create emails and newsletters using its drag and drop interface.
The best part about it is that you can add videos, images, text boxes, and other elements to your website or landing page. This platform offers an analytics dashboard that lets you monitor your website's performance in real-time.
You can also track your leads using HubSpot's lead tracking feature. It has a free trial period of 30 days. If you are running a small business, go for their basic plan as it will be sufficient for your needs.
HubSpot Key Features
List Segmentation

Paid Ad Tracking

Social Media Integration and Management

Built-In Service Requests

Gmail or Outlook integration
HubSpot Pros and Cons
| | |
| --- | --- |
| Pros | Cons |
| Easy To Use | Lots Of Configuration Required |
| Excellent Customer Support | Onboarding Fee |
| All In One CRM | Reporting is Limited |
| Customizable Templated and Reports | Contracts Aren't Flexible |
| Flexible Pricing | Lack of A/B Testing on Lower Packages |
7) WOOCOMMERCE
It is one of the top CMS platforms for eCommerce websites. It allows you to sell anything and everything online. Its features are endless, and it offers a free version as well as paid versions, with great add-ons available for each.
The flexibility in designing your website with WooCommerce is unmatchable, making it easy to create an amazing website that will attract customers from all over.
The best part about WooCommerce is that it's open-source, meaning that anyone can view its code and make changes to suit their needs. This means that if there's something you don't like or would like to change, then it can be done.
If you want to use a platform that gives you complete control over your website, then WooCommerce is definitely worth looking into.
WooCommerce Key Features
Seamless WordPress Integration

Unprecedented Flexibility

In-Built Payment Processing

Ample Theme Options

SEO Positive
WooCommerce Pros and Cons
| | |
| --- | --- |
| Pros | Cons |
| Great Flexibility | WordPress Specific |
| Limitless Customization Options | Need to pay for extensions |
| Free and open-source | Hard to implement multi-currency |
| Interactive Community | – |
| Optimal security | – |
8) BIGCOMMERCE
It is a powerful eCommerce platform with excellent features that allow users to create and manage an online store. BigCommerce offers a variety of features, including a mobile app, customer analytics, and marketing tools.
With BigCommerce, you can easily add products to your website, take orders from customers and deliver them quickly. The platform also offers built-in SEO optimization so that you can rank high in search engines like Google.
With its easy-to-use interface & wide range of features, BigCommerce is a great choice for eCommerce websites. Moreover, it has a flexible pricing plan that lets you choose between monthly, annual, or biennial billing cycles.
You can use either a credit card or PayPal as payment methods on your site. A unique feature of BigCommerce is its integration with Facebook Ads Manager, which helps merchants promote their business on social media platforms.
This tool makes it easier for small firms to target potential customers by location and interests. Other notable features include email marketing capabilities, inventory management options, and product reviews & rating integration.
Overall, BigCommerce is one of the top eCommerce platforms available today due to its ease of use and rich set of features.
BigCommerce Key Features
B2B-optimized Stencil themes

Product Filtering

Sales Representative Quoting

Shared Shopping Lists

Invoice Portal
BigCommerce Pros and Cons
| | |
| --- | --- |
| Pros | Cons |
| Omni-Channel Selling | Annual Sales Threshold |
| SEO Benefits | Limited Free Themes |
| Secure Performance | – |
| Ease of use | – |
Moreover, you can get connected with an excellent web development company to avail of web app development services. This will help you form a unique web application in a very less time frame.
9) SHOPIFY
The most widely accustomed content management system is Shopify. Shopify's web development CMS is intuitive, easy to learn, and has a variety of applications that can help to simplify your operations. Not only does it permit you to create products, but it also allows you to manage customers and track sales.
Shopify also comes with an app store that has more than 600+ apps available for purchase. It's easy to use and has a streamlined process that makes setting up an online store relatively painless.
Plus, there are plenty of themes, templates, and plugins available through their marketplace, which makes customizing your site simple as well.
If you're seeking a great way to get started with an online store or if you're looking to build a more complex ecommerce website, Shopify is a great option. It's easy to use and allows you to quickly customize your website without having to be a coding expert.
Shopify Key Features
70+ professional themes

Mobile commerce ready

Edit HTML and CSS

100 payment gateways

Free SSL certificate

Email templates
Shopify Pros and Cons
| | |
| --- | --- |
| Pros | Cons |
| Ideal for larger stores | Customization challenges |
| Highly Flexible | Limiting content marketing features |
| Multi-platform selling | Inflexible exit strategy |
| Extensive payment options | – |
10 ) WEBFLOW
This platform is best for small to medium-sized businesses looking to build a website quickly. As users, we particularly like its ability to produce great responsive websites that look good on every device and its intuitive interface that doesn't require a lot of training.
One of our favorite things about Webflow is that you don't need programming experience or be an expert at HTML/CSS in order to use it. If you want an easy way out of coding while still wanting great results, Webflow is a must-try!
Webflow Key Features
Fast Load Time

Better Security

Perfect backups and revisions

SEO Friendly
Webflow Pros and Cons
| | |
| --- | --- |
| Pros | Cons |
| Free to use | Code Customizations |
| Plan Flexibility | No live chat or phone support |
| Security | – |
| Ease of Use | – |
Wrapping Up
As you can see, determining which CMS platform is the best fit for your individual web development requires consideration of several criteria. Each of the web development platforms has its benefits and drawbacks. From the above-mentioned CMS platforms list, you choose the platform as per your requirement.
Using the top CMS platform for web development is not enough, as if you don't know the correct usage of the selected CMS platform, then there is no use in using it. This problem can be fixed, but for that, you have to hire web developers.
I will recommend selecting the efficient developers of WordPress, Drupal, Joomla, Magento, and Umbraco CMS platforms from the leading agile web development companies in India (ValueCoders).
This will help you in making the correct and adequate use of CMS platforms. Hire Indian programmers from them who have a minimum of 3 years of experience and have delivered 4500+ projects globally.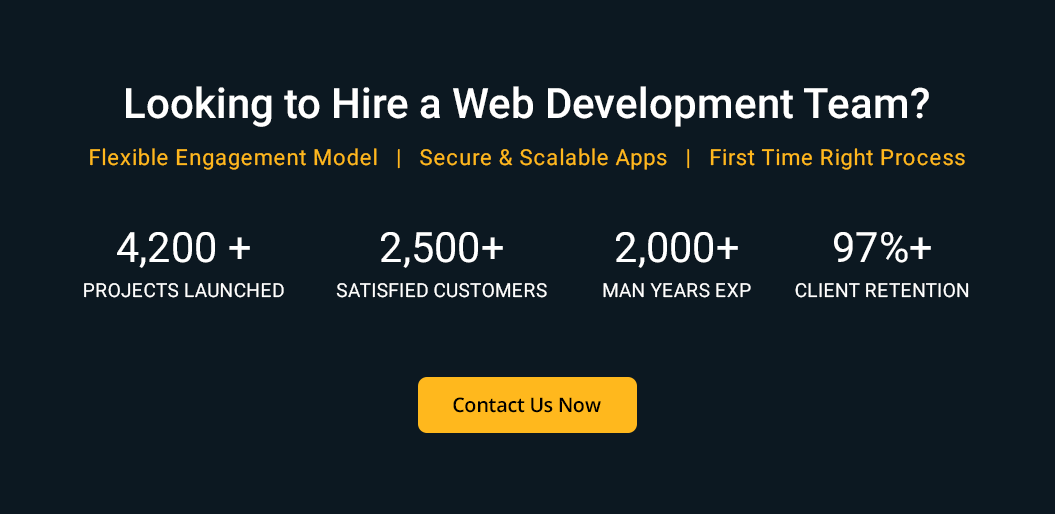 FAQs
1. Which is the CMS platform?
The Content Management System (CMS) is a piece of software that allows you to manage and edit your website without any technical skills. Your information will be displayed to your audience exactly as you want each time they visit your website.
As technology changes and websites become more complex, it becomes increasingly difficult for owners to keep up with maintaining their sites. Utilizing a CMS will make it easy for you to customize your content while using templates that are created by professional designers.
2. What are the benefits of using CMS Platform?
The benefit of using the CMS platform is that it helps in creating a website easily. The content is already stored, and you can just update it as per your need. It also helps in saving time and money. You don't have to hire developers for creating websites, as you can do it yourself with ease.
If you want to add new pages or make changes, then you can do it easily without any help from developers.
There are many platforms available online which will help you create a website by just paying some amount of money online. You don't have to pay much for developing websites these days as there are many affordable options available for everyone who wants to create a website for their business or personal use.
3. What are the different types of CMS platforms?
There are three different types of CMS platforms:
The first is a hosted, cloud-based solution. This option is great for individuals and small businesses because it's easy to set up and use.
The second type is a self-hosted platform that you can install on your own server. Self-hosted solutions offer more control over design and functionality, but they also require more time and technical expertise to set up.
Finally, there are open source platforms that you can download from an app store or websites like WordPress or Drupal. These options give you more flexibility than hosted solutions, but they also require more maintenance.