Java is one of the most enviable programming languages due to its robust architecture and efficiency in custom & enterprise application development. Being a popular technology, it is also becoming the subject of interest among both software enthusiasts and businesses.
However, the major concern for business owners is to find reliable java developers who can understand the objective of java application development and create a user and business-centric solution. In search of finding the right Java developer team, businesses have to knock on the door of a number of software development companies.
But!
All efforts can go wrong if you don't have the right direction to follow. Thus, I have decided to enlist some top Java development companies to hire expert developers or outsource java development. The list is prepared by considering the following aspects.
Expertise of companies in different areas
Industry centric offering and credibility
Hourly price of developers
Awards & recognition received
Quality of assistance
Reviews and rating
While preparing this list, I have also considered the feedback of clients and reviews provided by software development peers and forums. So, let's take a glance at top java web development companies to outsource your web development project or hire developers.
Top Java Web Development Companies To Outsource Your Project
Algoworks is a well-known web and app development company based out in Noida, India, and Sunnyvale, USA. Being a team of vigorous innovation enthusiasts and developers, the company has delivered more than 500+ apps.
Its clientele includes both Fortune 500 companies and startups, which has appreciated its agile development approach and quick response & care. The passionate teams of designers, business analysts, and techies at Agloworks take up each project from understanding needs in business to final deployment.
The company is also recognized as a Salesforce Gold Consulting Partner and Member of Salesforce Talent Alliance. Its expertise comprises customizing SFDC to business processes, upgrading user experience, and more.
Founded: 2006
Headquarters: Sunnyvale, CA
Clutch Rating: 5.0/5.0
Hourly Price: Starting from $25/hour
Celebrated Clientele: Bahwan Cybertek, Byton, Coca-Cola, eBay, Brightcove, RateGain, Nearbuy, Vice Media, SpiceJet, Southwestern, Tata, Vodafone, JLL, Grey Orange
Industry Expertise: Retail & Ecommerce, Baking & Fintech, Travel, Education, Healthcare, Supply Chain, and more.
---
---
Needless to say that ValueCoders is a top provider of Java web development services. Due to its proven development methodologies, extensive business domain knowledge, and excellent technical expertise, it has been appreciated as one of the best software outsourcing companies by Deloitte, Red Herring, and NASSCOM.
The company provides a variety of software and IT solutions to both startups and large-scale enterprises and is recognized for adding value to businesses. It also serves diverse technology requirements for Government and SMEs.
It has successfully delivered 4200+ projects to 2500+ clients worldwide. Due to top-notch assistance, the company has 975 customer retention and follows the FTR process. Moreover, it has 2000+ man-year experience.
Founded: 2004
Headquarters: Gurugram, India
Clutch Rating: 5.0/5.0
Hourly Price: Starting from $15/hour
Celebrated Clients: Estel, Capgemini, Novea, SelectSpecs, Candor, EventDo, Grundfos, BlueLane, RiskLogic, Track Opinion, Dubai Police, Rina, Affle, ZenQ, The Mueller Healthcare Foundation, Tekion, UNESCO
Industry Expertise: Healthcare, Media & Entertainment, Retail & ECommerce, Banking & Finance, Education & E-learning, ISV & Product Firms, and more.
Mercury Development is recognized for catering best-in-class software application development services including, iOS, Android, and web applications. The companies' major expertise can be seen in mobile platform development as well as web & database projects.
From strategy building, ideation, development, and deploying, the company provides unparalleled expertise and integrates modern technology stack to provide its clients with competitive solutions. The firm caters to the best java web development assistance, including android app development.
From startups to Fortune 100 companies, the company is engaged in serving all organizations with expertise and great aptitude. If you are seeking the best Java web development company in the USA, you can connect with it.
Founded: 1999
Headquarters: Aventura, FL
Clutch Rating: 5.0/5.0
Hourly Price: Starting from $50/hour
Celebrated Clients: DOW, Grainger, Symantec, HSBC, SAP, Miami Children's Hospital, HP, Thomson Reuters, Kensington, and many more.
Industry Expertise: Media & Entertainment, Healthcare, Ecommerce, Wearables, Fintech, Games, Enterprise Solutions, and more.
---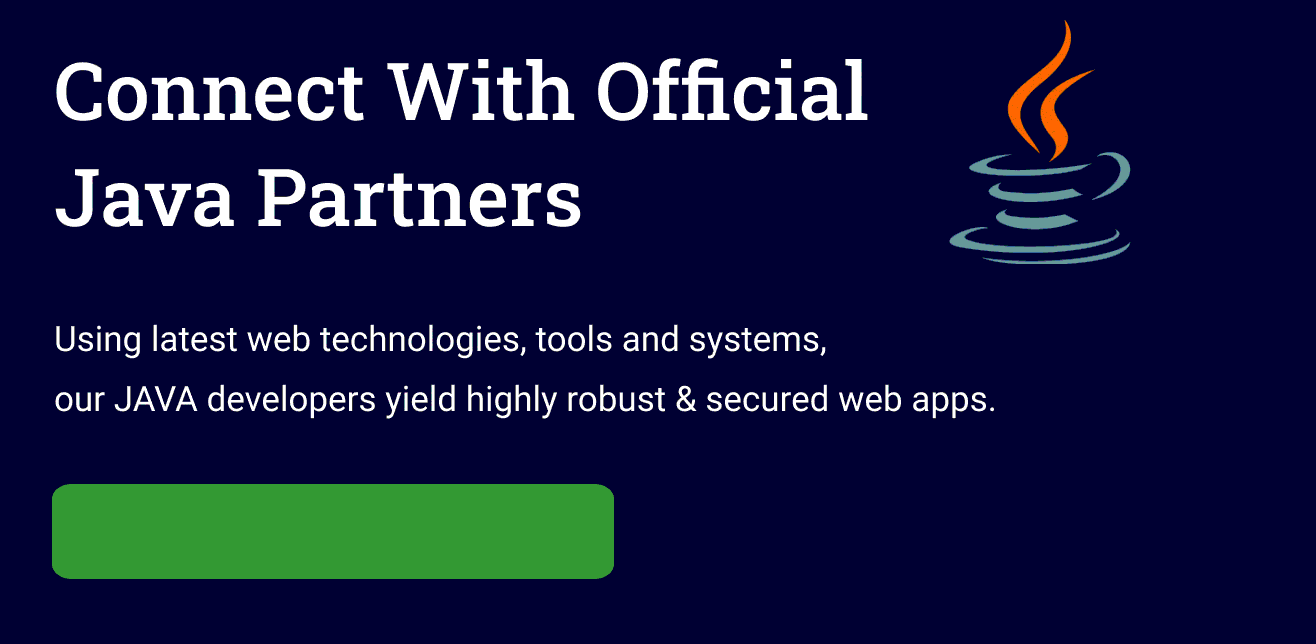 ---
Trigent is one of the pioneering Java web development companies that provide enterprise-grade solutions to its clients. The company also helps in the digital adoption of processes and customer engagement by understanding businesses' needs and target users.
It is known for catering to clients with high-grade assistance to achieve better digital transformation, optimization of enterprises' IT environment, and modernization. It has decades of extensive experience, deep knowledge, and technology expertise to deliver one-of-a-kind solutions using technologies like Java, Python, React, Swift, and more.
Through remarkable expertise & extensive research into cloud services, BI & Analytics, Big Data, and other techs, it has gained recognition of partnership with Oracle, Microsoft, and AWS programs.
Founded: 1995
Headquarters: Bengaluru, India
Clutch Rating: 4.8/5.0
Hourly Price: Starting from $25/hour
Celebrated Clients: Navistar, HDFleet, Honeywell ReedTMS, Heineken, SurgeTransportations, NEPC, Securely, International Justice Mission (IJM), RateCentric, PG Calc, Kimco, Laufer International Group, and more.
Industry Expertise: BFSI, Manufacturing, Retail, Transportation & Logistics, Healthcare, Education, and more.
---
Also Read: 7 Java Web Development Technologies You Must Know
---
5. BairesDev
The company holds the title of leading Nearshore technology solution company in the USA and is known for offering a variety of software services, including Java web development. It is appreciated for engineering scalable and high-performing software solutions that meet business challenges.
With excellent tech expertise and multiple-industry experience, the company provides digital acceleration products. Moreover, the ultimate goal of the organization is to create long-lasting value for its client by providing competitive enterprise-grade solutions.
With a team of 2,500 seasoned engineers across 36 countries, the company is engaged in serving Fortune 500 companies and leading brands. If you are looking for a top Java web development company, you can connect with them.
Founded: 2009
Headquarters: San Francisco, CA
Clutch Rating: 4.9/5.0
Hourly Price: Starting from $50/hour
Celebrated Clients: Google, Salesforce, Turner, IBM, Whirlpool, Rolls-Royce, Pinterest, EY, Motorola, ViacomCBS, Chime, Thomson Reuters, RightSide, HP, Autodesk, BBVA, Motorola, Volkswagen, NextRoll, and more.
Industry Expertise: Fintech & Cryptocurrency, ECommerce, Healthcare, Manufacturing, Retail, Travel, Media & Entertainment, Cybersecurity, and more.
It is one of the top Java web development companies due to the amalgamation of tech and business logic it caters in every project. Being a team of more than 1,500 experts (including designers, developers, business analysts, and thinkers), the company is engaged in solving business challenges across multiple industries.
With an extensive experience of more than 18 years, it is thriving as a leading Scandinavian technology consulting member and part of the world's top 100 outsourcing companies. It delivers turn-key software products that make your digital transformation journey successful.
Moreover, it is engaged in R&D in extended reality, IoT, and artificial intelligence, which also boosts its credibility for better. For the record, it is an ISO 9001: 2015 and ISO 270001 certified company.
Founded: 2002
Headquarters: Kyiv, Ukraine
Clutch Rating: 4.8/5.0
Hourly Price: Starting from $50/hour
Celebrated Clients: Volvo, LeoVegas, IGT, Mindvalley, Scania, Viaplay, DanAds, Scandinavian Airlines, Telematics Wireless, Oath, Fortum, Wargaming, KnorrBremse, AstraZeneca, Clean.io, Mikz,
Industry Expertise: Education, Healthcare, Fintech, Entertainment & Media, Marketing & Advertising, Gambling, Construction & Real Estate, Telecom, Energy, and more.
---
---
It is also one of the recognized Java web development companies with an extensive talent pool of 2700+ experienced engineers. Being an innovation-driven company, it focuses on catering top-notch quality solutions including, web, mobile, and desktop application development.
It has also helped VC-backed startups and leading tech companies to create successful products with increased scalability. With brilliant minds, the company excels in its services across Big Data, AR/VR, DevOps, AI, and more.
Due to incredible assistance, it has been listed in America's 5000 Fastest Growing Companies. If you are looking for a top Java web development provider company in the USA, you must contact iTechArt Group.
Founded: 2002
Headquarters: New York, NY
Clutch Rating: 4.9/5.0
Hourly Price: Starting from $25/hour
Celebrated Clients: ClassPass, Merkle, Barchart, ZEFR, CareDox, Gain Capital (forex.com), BuildingLink.
Industry Expertise: Fintech, InsurTech, HealthCare, EdTech, Real Estate, Marketing & AdTech
---
Read Also: 7 Java Web Development Technologies You Must Know In 2021–22
---
Wrapping Up
Java web development is most sought-after among industries like manufacturing, healthcare, supply chain, and many others where processes are hardcore and require a robust solution. Moreover, Java development is also preferred due to excellent data security.
If you want to leverage the full potential of Java application development, you need a company or developer team with unmatched expertise and potential. Given are the best Java web development services providers that can create the finest quality solutions.
Connect with any of these top java development companies, and secure prolific quality solutions settling to all business needs.
Download Your FREE e-Guide NOW!
Discover What, Why & How of "Offshore Resource Hiring" with this FREE e-Guide!